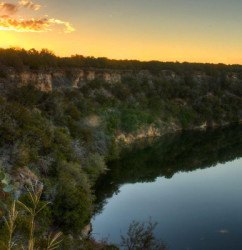 Gaines Bend is a place with endless possibilities. Within our own family, we have passed down through the generations a legacy of land and home. From our family to yours, we offer you the opportunity to create your own legacy and a lifetime of memories.
Make Gaines Bend your lake home. It boasts the best location on Possum Kingdom Lake, the premier lake in all of Texas. From almost all of our exceptionally large lots, you'll find unobstructed blue water lake views. Flanked by the extraordinary rock formation, Hells Gate, to our west and the deep water of Neeley's Slough to our east, Gaines Bend has over 16 miles of water front shoreline and is called home by over 250 families.
The master plan for Gaines Bend consists of an additional 800 new home sites to include both single-family homes and multi-family condominiums & town homes.  An upscale restaurant is planned to finish out the development.
Sharing the lifestyle in Gaines Bend at Possum Kingdom all leads up to the ultimate sport: watching the kids and the grandkids experience and delight in it all. Create the legacy now and pass it down.