Gaines Bend is proud to announce its newest neighborhood!
Rawhide Vistas is a Master Planned community with five designer home options giving you incredible possibilities to fit your budget. We have four single-story floorplans and one two-story.  Each home is professionally designed with exceptional finish-out workmanship taking all the guesswork out of making your lake home amazing. The greatest compliment to your designer home is the huge lake view!
"I love the view, and my home sits high on the cliff so we always have a cool breeze even in the heat of the summer.  I love cooking outdoors on my Egg in the evening and having coffee on the porch in the morning watching the sunrise.  The rural setting is great for my kids… we turn them loose on the Ranger to ride around and get into things.  The stars are spectacular at night…it's like being on a ranch in the middle of nowhere.  The fit and finishes in the house are really high end and it lives very easy. We congregate around the bar in the kitchen for meals and just to talk.  There are lots of nice touches like big closets and great appliances. I love my lake house more than the one I live in full time.  The new marina was a big deal to me.  I can see it from my front window and can access my boat anytime without getting in my car.  Plus I don't have any dock maintenance responsibility." 
— Blake Fulenwider, Rawhide Vistas Homeowner
Make your home work for you as a Vacation Rental! Our research shows that there are very few vacation lease homes at PK. By having this option, you will be able to use our turn-key management company to clean and take care of your home as it is used, without the headache of having to do it yourself. This is a great way to get a return on your investment in a lake home!
Visit us at our SALES & DESIGN CENTER today!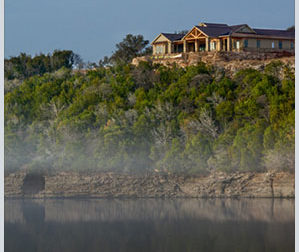 3276 sf, 4 Bed, 4.5 Bath
Cliffside, lake luxury with panoramic water front view. Features include:
Hickory cabinets
Granite countertops
Mixture of travertine, tile & wood flooring
Large kitchen complete with KitchenAid appliances
Stained concrete verandah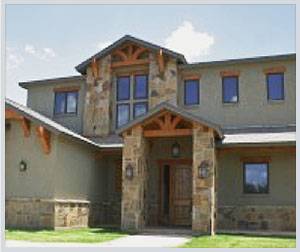 2171 sf, 3 Bed, 3.5 Bath
A fabulous home in the Rawhide Vistas neighborhood with a BIG LAKE VIEW complete with:
Knotty alder cabinets
Granite countertops
Bosch kitchen appliances
Mixture of porcelain & wood flooring
Two spacious outdoor decks/patios for your lake enjoyment!
Want to See More Options? Choose from Available Floorplans and Customize at the Design Center
Our floorplans include two additional single-story homes.  There is the Chisholm and Brazos Ranch II which is a 4-bedroom version of our Brazos Ranch. Right now there is a great selection of lots featuring some of the best views in the neighborhood!
Choose from a selection of interior and exterior finishes or upgrades at the Design Center.
Finish-Out Options:
Exterior colors
Exterior stone
Interior paint/stain colors
Granite (for countertops)
Wood flooring stain
Available Upgrades:
Appliances
Lighting Fixtures
Plumbing Fixtures
Bath tile/flooring
Granite
Wall texture
Insulation